I hope everyone is having an amazing Holiday season! I have something fun & exciting that I am going to share with you over the next few days! Two weeks ago I asked 8 of my favorite party planner/bloggers, as well as some of your favorites about their favorite Christmas Cookies! I also asked them a few questions that I am going to share their answers!
I wanted to share with you as many Christmas Cookies as I could & make it fun! I was reading a Fancy Nancy Christmas book to my 3 year old the other night for what inspired the title for these post ;) This post is definitely one of my favorites for many reasons....you will read & see why in a minute.
Without further a do I share with you in Part 1 of 2 the favorite Cookie Recipes of
Jenn from The Hostess with the Mostess
,
Danielle from A Few of My Favorite Things
,
Courtney
from
Pizzazzerie
and
Rebecca from Fresh Chick Design Studio
. First I'll share the photos of my cookie & cocktail table~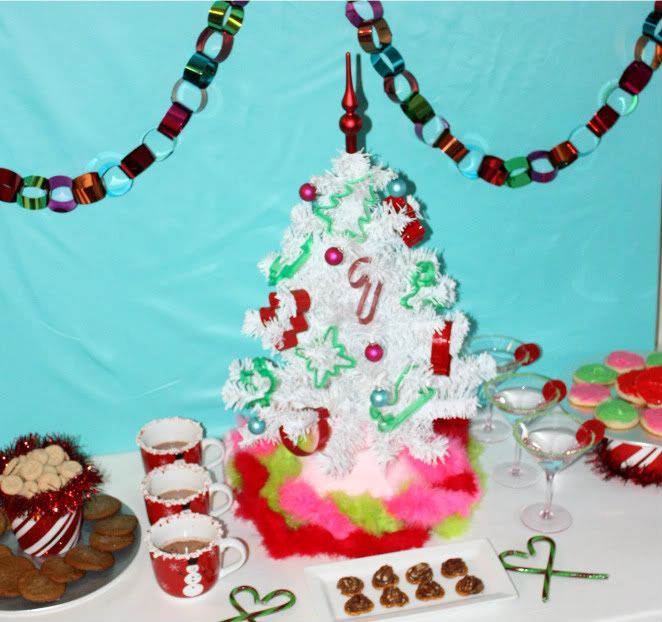 My Signature Christmas Cocktail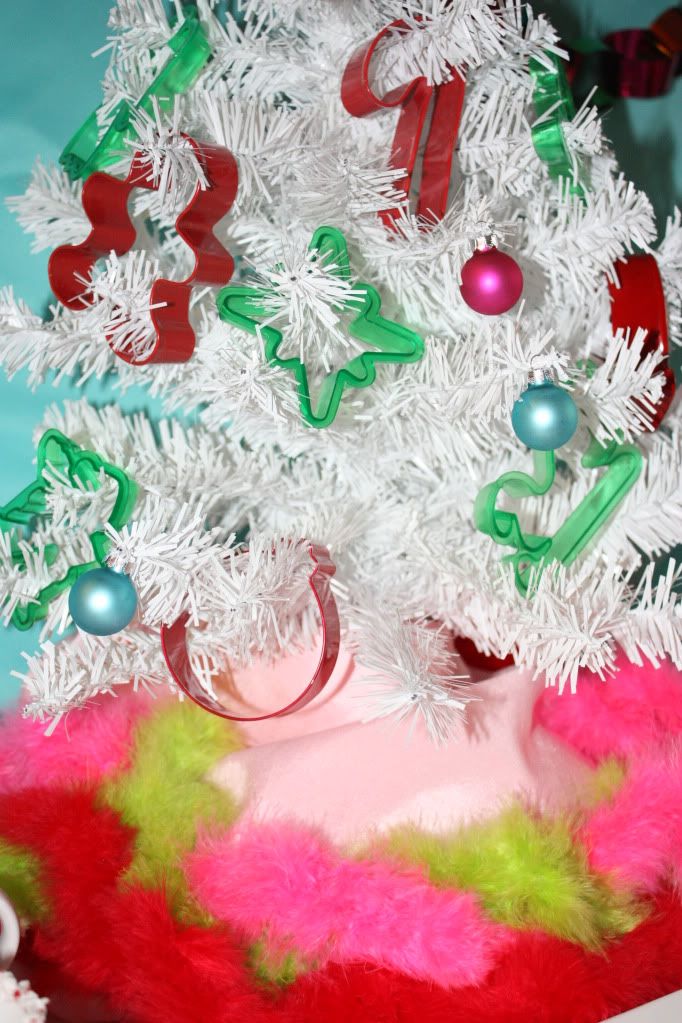 Cookie Cutter Christmas Tree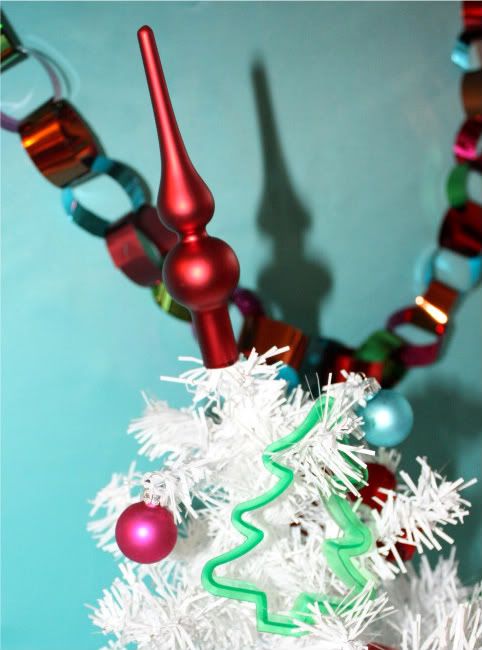 Mini Topper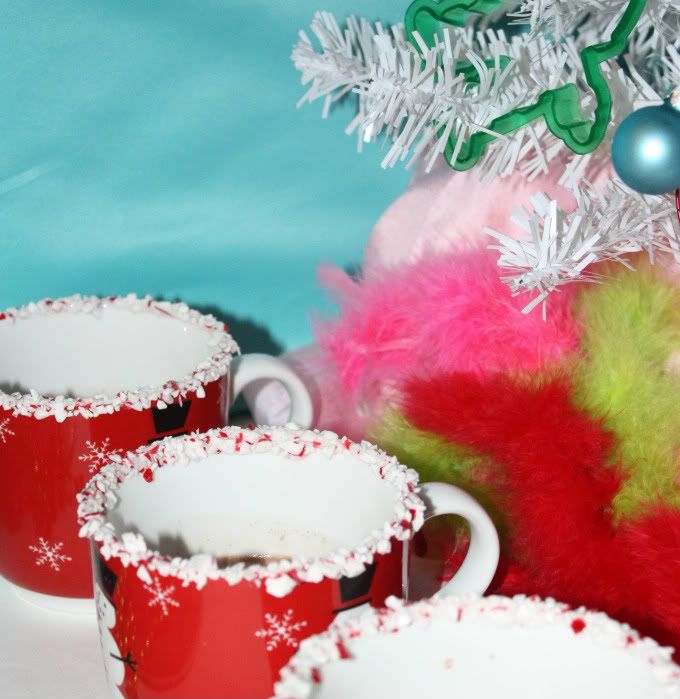 Peppermint Hot Cocoa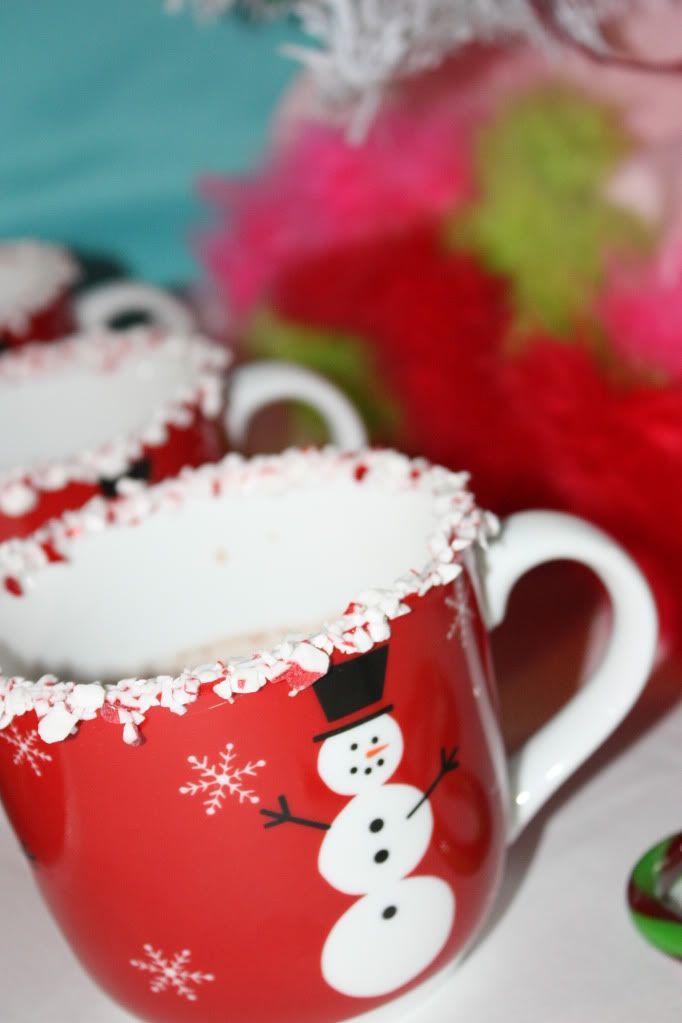 My cocoa mugs from Crate & Barrel
Candy Cane Hearts
The Recipes!
ROLO TURTLE TREATS~
~1 bag pecan halves (if you can't use nuts, try m&m's)
Pre-heat ove to 250 degrees
Place pretzels on a baking sheet. Put one unwraped rolo on top of each pretzel. Now off they go into the oven for about 3-4minutes...just as long as they are not too melted, just soft. Once out of the oven place a pecan half on top and slightly push down. Place on wax paper to cool. Proceed with caution - these lil' creatures are highly addictive!!
JENN'S SUGAR COOKIES:
from The Hostess with the Mostess1 cup butter
1 cup sugar
2 eggs
1 tbsp vanilla
3 cups flour
3 tsp baking powder
1/2 tsp salt

Preheat oven to 400º.
Mix dry ingredients in a bowl & set aside.
In a separate bowl, combine butter, sugar, eggs, and vanilla. Beat until mixed well. Add the dry ingredients & mix well. Chill for at least an hour to stiffen the dough. Roll dough out & cut into shapes or form dough balls and flatten into thick circles with your hands.

Bake 8-10 mins or until the edges of cookies start to turn a very light golden brown. Don't overbake!


FROSTING:1/3 cup butter, melted
1 Tbsp vanilla
3 Tbsp milk
4.5-6 cups powdered sugar (thicken to desired consistency)
food coloring

Mix all ingredients together. Apply generous helpings of frosting onto completely cooled cookies. (Frosting will bleed off if cookies are warm.)
*If frosting is too runny, add more powdered sugar. If it's too thick, add more milk, 1 tsp at a time.
GINGER SPICE COOKIES:
SNICKER DOODLES:
this recipe is via www.joyofbaking.com
Snickerdoodles:
2 3/4 cups (360 grams) all purpose flour
1/2 teaspoon salt
2 teaspoons baking powder
1 cup (227 grams) unsalted butter, room temperature
1 1/2 cups (300 grams) granulated white sugar
2 large eggs
1 teaspoon pure vanilla extract
Coating:
1/3 cup (66 grams) granulated white sugar
2 teaspoons ground cinnamon
Snickerdoodles: In a large bowl whisk together the flour, salt, and baking powder.
In the bowl of your electric mixer (or with a hand mixer), beat the butter and sugar until smooth (about 2 to 3 minutes). Add the eggs, one at a time, beating well after each addition. Scrape down the sides of the bowl. Beat in the vanilla extract. Add the flour mixture and beat until you have a smooth dough. If the dough is soft, cover and refrigerate until firm enough to roll into balls (one to two hours).
Preheat oven to 400 degrees F (190 degrees C) and place rack in the center of the oven. Line two baking sheets with parchment paper.
Shape the dough into 1 inch (2.5 cm) round balls.
Coating: In a large shallow bowl mix together the sugar and cinnamon.
Roll the balls of dough in the cinnamon sugar and place on the prepared pan, spacing about 2 inches (5 cm) apart. Then, using the bottom of a glass, gently flatten each cookie to about 1/2 inch (1.5 cm) thick.
Bake the cookies for about 8 - 10 minutes, or until they are light golden brown around the edges. Remove from oven and place on a wire rack to cool.
Can store in an airtight container, at room temperature, for about 10 - 14 days.
Makes about 6 dozen cookies.
I Loved each and everyone of these cookies fortunelty for me I only got to sample Jenn's Sugar Cookies, the Ginger Spice & the Snickerdoodles. I am using them for teacher gifts and class party treats tomorrow ;). The Rolo turtles I should have designated too because I ate too many. But hey its Christmas! Time to celebrate and indulge. I did just that…LOL.
I have 4 more of my favorite's favorite cookie recipes to share on Friday! Please come back and next week I will share why these fantastic girls are some of my favorites and what is their favorite things to do during the holiday's and why these cookies are special to them!
Have a wonderful night! Tis the Season! Any questions on the recipes let me know!
Stacy