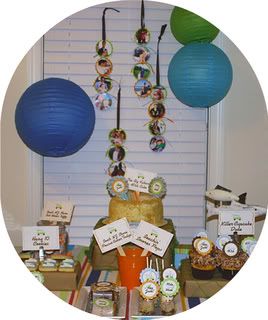 So excited to share!! This past weekend I threw a surprise birthday celebration for my husband who growing up was a surfer. The perfect theme that came to my mind was a surf theme to take him back through the last 40 years and to "Ride the Wave" with photos and other little details that I used for the party! The best part of the evening for me was when he was taking a look at the details & decor and notice the woody on the party circles and the "Hey Jude" (I had to have that because we always sing it to him) and commented how he loved them....then laughed and stated how this was such a perfectly fit theme because he had just rented a surfboard for the next morning for himself! I was shocked and concerned~ but hey I guess that better then him bringing home a motorcycle to deal with a mid life crisis ;)
Here is what I did, it was very fun & easy! I needed to keep it simple because I was hosting it at a house we rented in Ocean City, NJ for 10 days. So I needed to be creative with getting things down to the house and making it easy for me to transport and store until the night of the celebration. After all I was on vacation too and this wasn't my house! With the help of the fun & fabulous party girl Kim from
The TomKat Studio
I made it just that creative, scrumptious & easy to do. All which I will share with you!
First up of course the scrumptious sweets...cupcakes, cake & cookies~

The cupcakes & cookies were made by me. The cake was decorated by myself BUT I had to order the cake from a local baker called Chester's in Somers Point, NJ. It made my life and vacation so much easier I couldn't resist. I called and ordered the cake and asked them to just icing it with no decorations, due to the fact that I wanted to add my surfboard fondant toppers, along with the party circles that Kim from
The TomKat Studio
designed for me & the brown sugar to give it the "beachy" look.
So the next time you are in a bind and need a cake quickly but want to decorate yourself, remember what I did call the bakery ask them for just the icing so you can do the decorating yourself!
For the cupcakes I made an almond chocolate buttercream and then piped them onto vanilla cupcakes while I was doing that I had toasted up some coconut in the oven @ 375 for about 10 minutes. After it cooled off I dabbed each cupcake onto the cookie sheet of coconut to cover them. I chose the coconut to go with the beach theme.
That is what I have for until tomorrow! Today is actually my husbands birthday so I am off to cook some italian his favorite~ check back tomorrow I will have all the rest of the details from the photo streamers, the little buckets I found to fill with sand and hold the custom labels on a stick to the fresh peanut butter fudge that I tied with bakers twine from
The Twinery
& the party circles and the DIY cake stand boxes I made!!
Enjoy your day!
LOVE, PEACE & Ride the Waves,