Hey there everyone! I just wanted to recap last week! It was so fun & exciting I just had to share!
I had the oppurtunity to meet & speak to "The Cake Boss"
Buddy Valastro
at the Barnes and Noble!
First was
The Cake Boss
~ I wasn't sure what to expect it as far as how many people would be there, it was on a Monday at Barnes & Noble at 12 noon...I packed up my 2 little girls and off we went! Got there a bit late and the line was weaved in and out and around the book shelves of the store. THANKFULLY, my little ladies behaved and I met a few very sweet Buddy fans in line!
Finally about 45 mins later we had our turn to chat & get a photo with
Buddy
. I watch the show on a weekly basis. One of the reasons is I love all the personalities on the show especially
Buddy's
. His mother is definitely my favorite.
Buddy
was so nice, asked for the babies right on his lap in such a way like he was a friend and just loved little kids. He was extremely warm & so appreciative of everyone, as humble he is at times on his show, he was exactly that was in person too!
Here are the photos starting with when we got there in the back of the line to the signing and then when he was all finished, I asked if we could get one more photo and chatted a bit about baking! What a fabulous & memorable conversation that was to say the least for little old me the self taught baker :)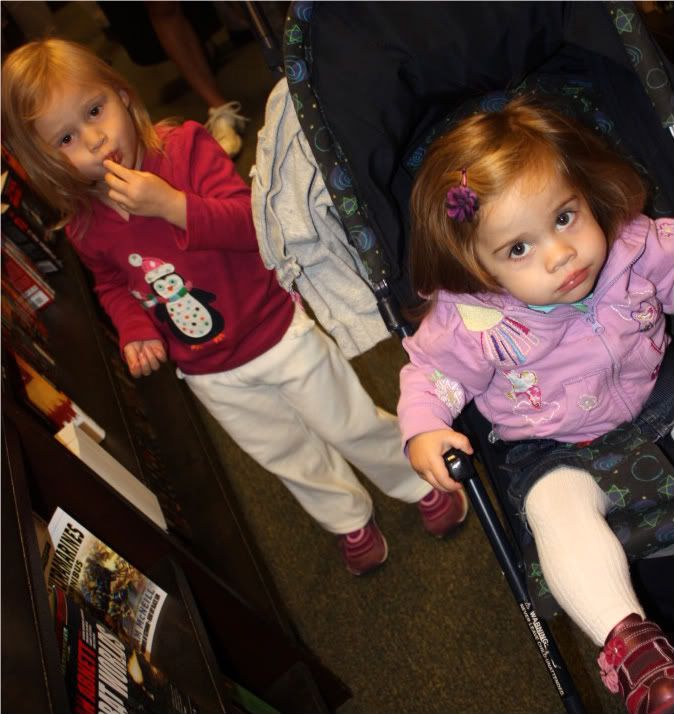 Margaret is like "really Mom...how long do we have to wait here"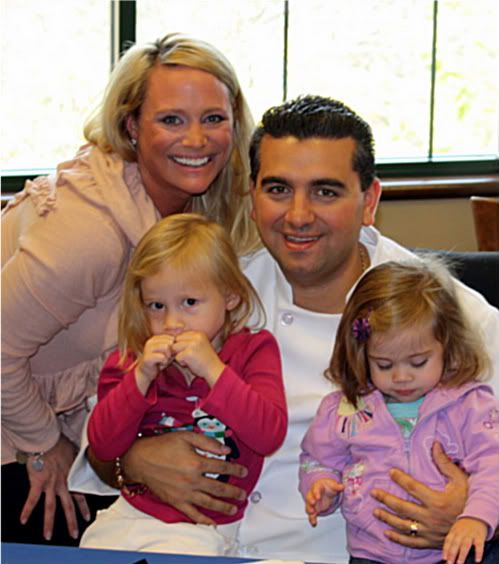 We could get the girls to smile, but at least they weren't screaming :)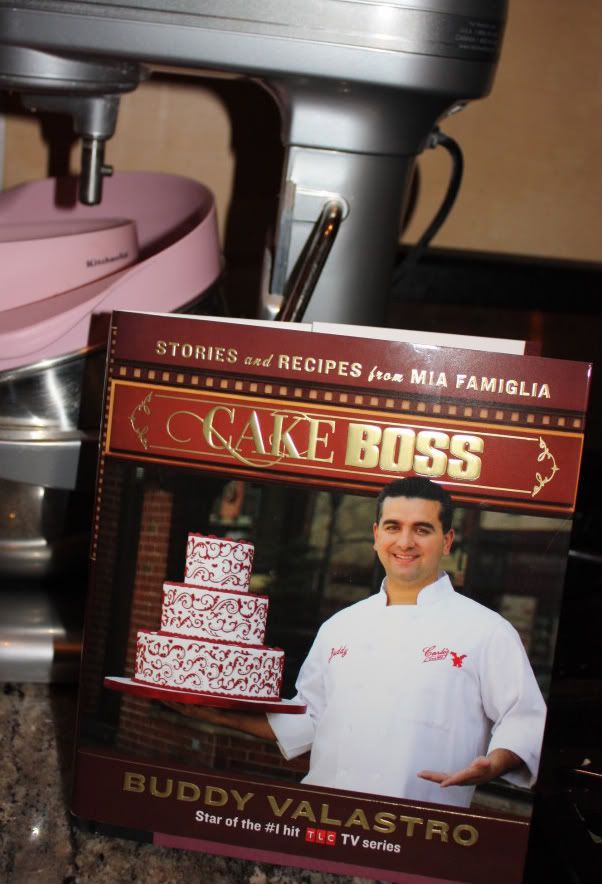 FABULOUS DAY!!! AMAZING opportunity for me like I said!
The really exciting part is I got 2 books signed by
The Cake Boss
!! 1 for me & 1 for maybe you too!
Later this week I will share all the exciting details!! I am so stoked for my 1st giveaway here on my blog! Not only because it is the 1st, but the giveaway itself just made the #4 spot on the NYT best seller list & just as important the site that is hosting it for me!! Yay! Can't wait to share!
Peace, Love & The Cake Boss,